Super Donator
Club Member
Joined

Apr 29, 2009
Messages

20,921
Reaction score

16,216
Location
With the HOF Game on the horizon, I thought it'd be a fun time to look at the picks I expect to yield the greatest returns. Due to time constraints, I'm posting the list, and I'll update it with my thoughts on each pick (and fit) as I'm able.
We're going to start in the 7th RD and count down to the 1st. I'm not doing UDFA's. You'll notice that certain rounds only have a few players. I didn't approach this with quotas in mind. And, the NFL did a pretty good job of scooping up high-end talent before the final rounds, but I think a few slipped through the cracks. We'll get to those now. Enjoy!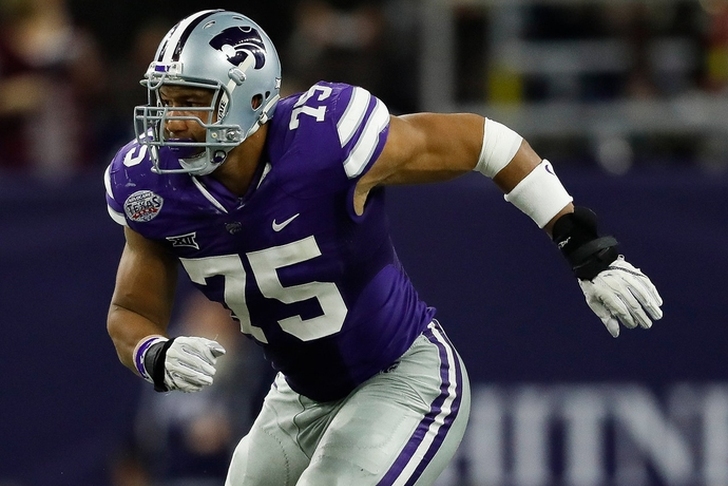 7th RD
It's not impossible to find Pro Bowl/All Pro talent in the 7th, but, for obvious reasons, it's rare. These guys have starter potential.
243. Houston - Kyle Fuller C Baylor - Fuller has the body and athleticism to fill in at OG if need be. He has very long arms for an interior OL, and Maurkice Pouncey is one of his closest athletic comps. He's raw in his technique, but, at Baylor, he showed flashes of dominance and the ability to move to the second level. Of the players drafted in the 7th, I think he has the best shot, even if it's a small one, to develop into a Pro Bowl player. I expected him to go in the 3rd-5th range. I listed him as potential target for Miami at 97 - in a grouping with Pocic and Elflein.
237. Miami - Isaiah Ford WR Virginia Tech - While Ford's speed limits what you can do with him at WR, he shows good burst coming out of his breaks, and he's shown the ability to high point the ball and make contested catches. Successful WR's come in many shapes and sizes. I think Ford fell, because he's awkward to watch, but he knows how to win, and he won consistently at Virginia Tech. Like Fuller, I thought he should have went in the 3rd-5th range. Miami really didn't need another WR, but reports say they viewed him as too good to bypass in the 7th. I don't have any gripe with this pick, but if I wanted to nitpick, Fuller offered similar value at a position of need for Miami.
232. Minnesota - Elijah Lee LB Kansas St - Lee reminds me a bit of Telvin Smith. He makes a lot of tackles, is a limited athlete but has plus traits (burst). He covers well and has shown the ability to make plays on the ball. Even by WLB standards, he doesn't deal with blockers particularly well, but he should be a solid, sub-package LB for Minnesota early in his career, and I had him grouped with LB's who went off the board much earlier (Duke Riley and Alex Anzalone to name a couple).
6th RD
211. New England - Connor McDermott OT UCLA
209. Washington - Robert Davis WR Georgia St
201. Minnesota - Bucky Hodges TE Virginia Tech
191. Dallas - Xavier Woods S Louisiana Tech
186. Baltimore - Chuck Clark S Virginia Tech
5th RD
184. Philadelphia - Nate Gerry S Nebraska
182. Green Bay - Aaron Jones RB UTEP
161. Indianapolis - Anthony Walker Jr LB Northwestern
152. Carolina - Corn Elder CB Miami
151. Los Angeles Chargers - Desmond King CB Iowa
148. Jacksonville - Blair Brown LB Ohio
146. San Francisco - George Kittle TE Iowa
145. Denver - Jake Butt TE Michigan
4th RD
131. New England - Deatrich Wise Jr DE Arkansas
117. Los Angeles Rams - Josh Reynolds WR Texas A&M
115. Arizona - Dorian Johnson OG Pittsburgh
113. Los Angeles Chargers - Rayshawn Jenkins S Miami
108. Green Bay - Vince Biegel OL Wisconsin
3rd RD
103. New Orleans - Trey Hendrickson DE Florida Atlantic
100. Tennessee - Jonnu Smith TE Florida International
93. Green Bay - Montravius Adams DT Auburn
90. Seattle - Shaquill Griffin CB Central Florida
89. Houston - D'Onta Foreman RB Texas
84. Tampa Bay - Chris Godwin WR Penn St
83. New England - Derek Rivers DE Youngstown St
77. Carolina - Daeshon Hall DE Texas A&M
74. Baltimore - Chris Wormley DE/DT Michigan
73. Cincinnati - Jordan Willis DE Kansas St
72. Tennessee - Taywan Taylor WR Western Kentucky
71. Los Angeles Chargers - Dan Feeney OG Indiana
66. San Francisco - Ahkello Witherspoon CB Colorado
2nd RD
57. Houston - Zach Cunningham LB Vanderbilt
54. Miami - Raekwon McMillan LB Ohio St
47. Baltimore - Tyus Bowser OLB Houston
42. New Orleans - Marcus Williams S Utah
34. Jacksonville - Cam Robinson OT Alabama
1st RD
30. Pittsburgh - TJ Watt OLB Wisconsin
29. Cleveland - David Njoku TE Miami
19. Tampa Bay - OJ Howard TE Alabama
14. Indianapolis - Malik Hooker S Ohio St
12. Houston - Deshaun Watson QB Clemson
Last edited: