My f*ck ups be the perfect mistakes
Finheaven VIP
Joined

Apr 14, 2006
Messages

25,267
Reaction score

8,945
Location
Spare me all of the nonsense about what this team can't and won't do. Entering week 14, with 4 games left, Miami still has the slimest of chances to make a push at the playoffs. So I figure I put together a small little road map if anybody is interested:
First things first . . . Miami has to win out and go
9-7
. I think this goes without saying, and with the Patriots coming to town for a primetime showdown next Monday . . . it certainly looks like a grim task. We will have to summon the football gods of 2004 and maybe get some luck from a potential Gronk suspension to have a shot.
2004, you remember that don't you: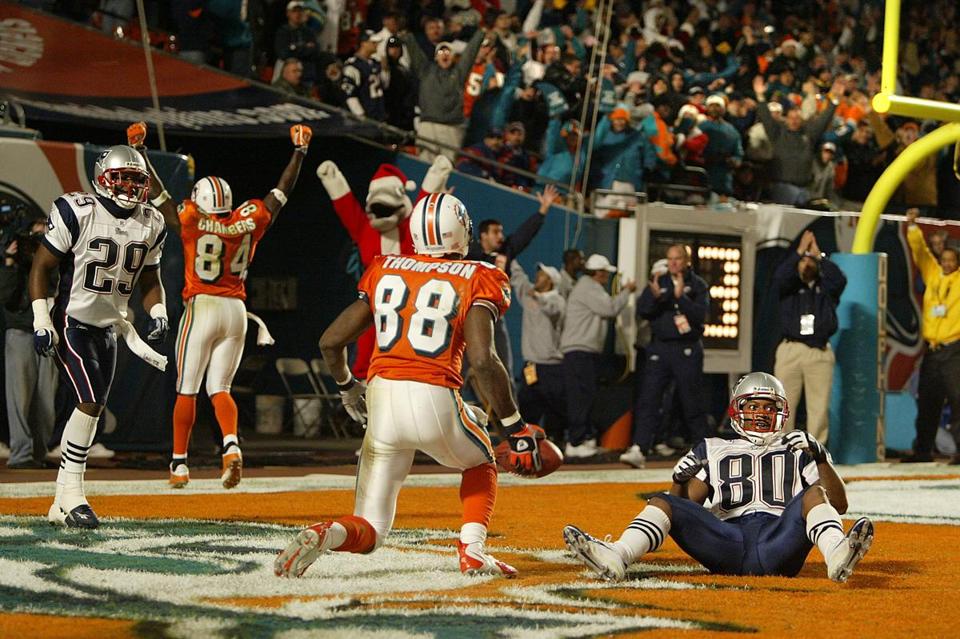 Another Monday night primetime game against these dudes and for one night, even during the midst of a losing season full of turmoil, we reigned supreme and put together one of the most memorable wins of the last 25 years for Dolfans. Maybe we need to dust off those orange unis and repeat history again.
If we manage to win this game, then we are looking at playing a Bills team twice that could be starting Nathan Peterman and a reeling Chiefs team in their building. Certainly not gimme games but games that if we play like we played this Sunday, we can win.
So let's not dwell much longer . . . we are going to assume a 9-7 record.
What needs to happen:

Miami at 9-7 would finish 2nd in the AFC east as the Bills could finish no better than 8-8 and a potental 9-7 Jets team would have 3 division losses while Miami would only have 2.

Miami would also have or be tied for the best conference record in the AFC wildcard chase as they would be 8-4 in the AFC
With the Jets and Bills eliminated from the equation, the teams Miami are contending against are: Patriots, Jags, Titans, Steelers, Ravens, Bengals, Chiefs, Raiders and Chargers.
New England has already wrapped up the AFC East Division in a 9-7 scenario. That leaves 5 playoff spots for 9 teams.
Pittsburgh is all but in at this point. 1 conference loss and 9 wins and they finish with the Browns at home. We are going to assume they take the division over Baltimore.
I am also eliminating the Bengals . . . they just need 1 loss and they have road games @ Minny and @ Bmore. Plus already with 5 conference losses.
That leaves 4 spots for 7 teams.
When we beat the Chiefs in our 9-7 scenario . . . every team in the AFC West would have 5 losses in conference at minimum. We would also have head to head of LAC and KC, but not Oakland, but Oaklands schedule of @ Phi, @ KC, @ LAC and vs. Dal . . . I feel comfortable that they won't finish better than 2-2, keeping them at 8 wins. So between Chiefs and Chargers, one wins the division the other one is lesser in a tiebreak than us.

So now that leaves 3 spots for 4 teams

This is where it becomes challenging to get in
Miami, Tennessee, Jacksonville and Baltimore are left. Either Jacksonville or Tennessee will win the AFC South so truthfully its 2 spots for 3 teams but they play in the final game of the year so we will factor them both in for now.
One of those 3 teams Miami is up against need to have a meltdown of some sort. Tennessee/Jacksonville are 3 games in front of Miami and Baltimore is 2 games in front of Miami.
Jacksonville only has 2 conference losses so far . . . they are the team you hope wins that AFC South and puts Tennessee in the wildcard picture as they already have 4 conference losses . We also have the head to head against them.
Baltimore we don't have that, but a 9-7 Baltimore team would have 5 conference losses so by default would lose the tiebreaker to Miami . . . IF another 9-7 team is in the picture.
It is tricky because Baltimore going 2-2 and finishing 9-7 is absolutely possible . . . however Miami needs another 9-7 team in that scenario or Baltimore wins the tiebreak. Whether its Tennessee or Jacksonville, or even one of the AFC West teams . . . somebody has to finish 9-7, with Miami and Baltimore.
Wrap Up

So as far as this week goes this is what you should be rooting for (in order):
Miami over NE (obviously the most important)
Pitt over Baltimore
Arizona over Tennessee
Seattle over Jacksonville
KC over Oakland
Washington over Chargers
Chicago over Cincinnati
We got this!