Super Donator
Club Member
Joined

Apr 29, 2009
Messages

20,004
Reaction score

11,932
Location
Evaluating the positions, after evaluating the individual talent, gives you an idea of what to expect heading into the draft. Teams draft for need. So, high-caliber players from position of abundance fall in the draft when teams need players from weaker positions. The goal is to illustrate which positions have the most talent. I give a brief summary for almost every player, meant to indicate the reason for his ranking.
These positions grouped in fours: Hoard, Shop, Pass. Hoard indicates a position is bountiful, and a GM should either take advantage or have a good reason for bypassing a stacked group. Shop means the talent is good, either at the top or with depth, and value can be, but will not necessarily, be found in these groups. Pass means only a handful of teams will get adequate value from drafting these positions. There are still quality talents available. You just have a slimmer chance of landing one of those talents. Positional rankings are below. These are ranked specifically for Miami (not an overall board). You'll noticed that they're organized by Miami's picks, and those are just indicators of where I would consider the players appropriate value - not that I
want
to draft a player at that slot. Let me know if you have any questions, and, as always, please enjoy :brewskis:
Hoard

1. DE + Edge/OLB
* With 24 players in the top 173, the depth at pass rusher is undeniable, and everyone knows, or should know, that Myles Garrett is the best player in the draft. But, players like Jordan Willis, Solomon Thomas, TJ Watt and Tyus Bowser are freakish talents, and Derek Barnett also belongs in the 1[SUP]st[/SUP] RD. If Rivers fit Miami's D at all, he'd also be grouped in the 1[SUP]st[/SUP]. That's a total of 7 1[SUP]st[/SUP] RD pass rushers, 8 if you count Rivers. Miami will have other options as well, but with pass rushers taking up so much 1[SUP]st[/SUP] RD real estate, DE or Edge/OLB makes a lot of sense at 22.
The next group of pass rushers features Daeshon Hall, Trey Hendricks, and Derek Rivers (again, because he's a rough fit for Miami). These are players worth considering at 54, and in a weaker draft for pass rushers, they could get pushed up into the 1[SUP]st[/SUP] RD. All three are very athletic. Hendricks and Rivers produced at a high level, and Hall has exceptional length. This group has lower ceilings than the 1[SUP]st[/SUP] RD group (maybe excluding Barnett), and they each carry concerns that make them higher risk, but they're still very good bets.
Typically, if you don't find a pass rusher in RD 1, you're not going to find a high-quality option that year. 2017 has an interesting mix of boom/bust prospects and potential starters in RD's 3-5. Vince Biegel and Takkarist McKinley headline the Edge/OLB group – each possessing some 1[SUP]st[/SUP] RD traits. Deatrich Wise leads off the DE group. Wise possesses a dangerous combination of size, length, and athleticism. He doesn't yet have it all worked out, but he flashes what people think Taco Charlton is. He's one of those players who take a big step forward once football becomes a full-time job.
Bashom is just an OK athlete, but he put up very good numbers at Ohio, and he should develop into a starting DE. Then, you have guys like Lawson, Harris, Charlton, and Tim Williams (Edge/OLB), who most project to go in RD 1 or 2. I think they come with too much risk, showing neither the athleticism nor production necessary to warrant a pick that high, but, again, each of these players flashes the traits of a premium pass rusher. Lawson has an awesome combination of speed, quickness, and strength; Harris has a sweet spin move; Charlton plays with good balance and strength; and Tim Williams is a very natural, slippery pass rusher.
DeMarcus Walker was extremely productive at Florida St, and though his physical tools kick him down the list, I would not bet against him. He'll need to go to a team that knows how to rotate him to make the most of his skills, which are NICE! If Hunter Dimick didn't miss half of 2015 with an injury, he would have totaled more than 30 sacks for his career. He has a strange build, but he's very strong, with good agility, great quickness, and adequate speed. He may not have enough juice to continue his dominant pace, but he should be a quality DE.
Rounding out the pass rushers are Keionta Davis, Avery Moss, Jeremiah Ledbetter, and Ryan Anderson (Edge/OLB). Davis is very strong, athletic, and productive. He's the kind of talent you want to take a stab at, and he played pretty well against Alabama. His burst is evident. Moss is a similar athlete to Bashom, and if he stayed out of trouble, he likely would have put up a similar career. Ledbetter is strong and squatty with surprising length for his build. He's a solid athlete. Ryan Anderson is as savvy as any player in the draft, and it's only his physical limitations that drop him this far. Because he's so sharp, he offers some versatility, but you're going to want to limit the area you ask him to cover, and it's unlikely that he'll be a very good pass rusher.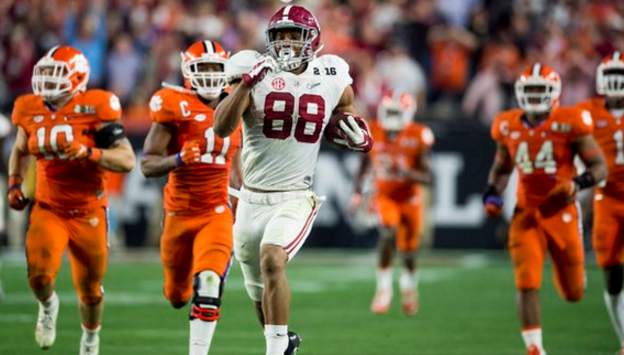 2. TE
* 13 players in the top 173 is not a ton of real estate relative to some of the other top positions, but relative to most TE classes, this is a very deep and talented group. With 3 players in the top 20 and 7 in the top 100, the 101-173 crowd is just as interesting – if not as dynamic.
I view Njoku and Howard as equal but different prospects. Howard is the much better blocker, is faster, more experienced, more reliable, and he shows better agility. Njoku is the more experienced receiver with more dynamic athleticism, unreal RAC, and elite length. I have Njoku slightly, because I view him as more of a playmaking TE, with better overall athleticism and upside, especially since he's younger than Howard. Ultimately, I think fit/need will determine the order these two players are drafted. They are both elite talents at their position.
Close on their heels, Evan Engram is the scariest seam threat in the draft, with natural athleticism and blazing speed. At the college level, he was a very good blocker, and if used as a Move TE, he should be better than fine in the NFL. He's already a better blocker than Jimmy Graham. A true matchup nightmare, people compare him to Jordan Reed, but he's a much better prospect than Reed was coming out of UF.
Bucky Hodges is hard to grade without knowing the person. I don't. His tape, to be kind, is a mixed bag. When he looks like he wants it, he flashes dominance. Sometimes he looks like he'd rather be playing basketball. His talent is top of the line. He's a gamble, but TE is a developmental position. If you decide that he's willing to work to make it happen, you feel good about drafting a player as gifted as Hodges.
Jonnu Smith and George Kittle figure to settle into H-Back or Move TE roles. Kittle is the more dominant blocker, but Smith gives good effort in this area, and while Kittle is the faster, more explosive athlete, Smith is still a near-elite athlete, and, though, he has different strengths, he tested in the range of OJ Howard. Because they're smaller, neither is likely to ever be a feature TE, but both present rare skill sets for the position. Without the injury, Butt is likely the 4[SUP]th[/SUP] TE in this class. His combination of size and skill are reminiscent of Hunter Henry. He's a reliable, tough target, and his blocking is solid. His ceiling is the lowest of TE's 1-13, but he's one of the most likely players to reach his ceiling. Smith, Kittle, and Butt provide exciting skill sets for teams that couldn't or did not want to draft a TE in RD 1 or 2.
The later rounds are stacked with players who bring high-end traits and serious concerns to the table. Leggett is a big, smooth target, who makes it look easy when he's playing well, but he has some serious concentration lapses, is not a great athlete, and there are questions about his love for the game. Shaheen is a big, athletic small-school player with a somewhat awkward build. Brown has the best frame of any TE in the class, and he comes in and out of his breaks very well for a guy his size – outstanding target. Injuries and off-field are the concern with Brown. Sprinkle is probably the best in-line blocking TE in the draft, and he should – at minimum – bring value in that capacity, but he flashes as a receiver. He's not a great athlete, and off-field issues drop him down the board. Everett is another H-Back/Move TE with very good athleticism, but he has small hands, and he's a level below Smith and Kittle. Roberts makes tough catches in traffic, is huge at 270lbs with 11.5" hands, and he's hard to tackle after the catch. His lack of speed and general athleticism limit his appeal as a receiving option.

3. CB + Slot
* With 24 CB's (including Slot) in the top 173, 2017 offers every shape and size. With 16 of the 24 ranking in the top 100, and 7 in the top 32, the class offers premium talent. Lattimore leads the pack by a few strides. He still has some work to do, but his level of burst and make-up speed only comes around once every few years. Injuries and inexperience are concerns, but his talent is close to can't-miss. He should go top 10.
Conley is ahead of the next group, combining very good tape, elite length, and no athletic weaknesses. He can play in any scheme, but teams asking him to play zone will want to see his tackling/physicality improve. This is a common theme in 2017. Long, fast CB's, who would be ideal zone CB's, except they don't tackle as well as you would like.
Speaking of, Ahkello Witherspoon is a more extreme example. He's a dynamic athletic with elite size and length, and there's no doubt about his ability to cover, but he's even softer than Conley. Humphrey and Griffin break this trend. Both still bring very good length, speed, and general athleticism, and both are willing, physical tacklers. Each would be ranked higher, but they're not as polished in coverage as Conley or Witherspoon, and both got beat deep more than you'd like in 2016 – correctable, but worth noting. Kevin King and Quincy Wilson are both very big CB's with the length you want. King is the best athlete in the draft, but, among the top CB's, his instincts and ability to stay connected to the WR are the worst. Wilson is surprisingly polished for his age, but his speed is only adequate, and for some teams, his speed is inadequate.
While the group above has issues to work out, they're generally terrific athletes with some scheme versatility. The next group gets more specific. The traits dwindle, and you're going to need more specific visions for these players. Tre'Davious White brings good length, solid speed, and adequate agility. He's an instinctive player, who is dangerous with the ball in his hands, but his athletic limitations make CB2 his ceiling, and he carries additional risk due to those limitations. Cordrea Tankersley, as Dabo put it, is like a faster Byron Maxwell. He's long, with good recognition and ball skills. His below average burst and agility limit his versatility and ceiling, but he's a great fit for teams like Miami, and he should be ready to play early. Rasul Douglas has similar limitations and strengths, with the exception that he's just barely fast enough to play CB, and he's much bigger and more physical than Tankersley. But, for a zone team looking for a long, instinctive CB, with ball skills, Douglas also fits the bill.
Moreau is extremely raw, and in a class where everyone seems to have 32"+ arms, he does not, but with Safety bulk and elite speed and burst, Moreau's ceiling is higher than the rest of the players in this group. His injury adds another concern, and with so many CB's with talent, he could fall a little on Thursday. Adoree' Jackson is also raw – though not as raw as Moreau. He gives up more separation than a player with his burst and agility should, and his size won't fly in many schemes. He does break on the ball at a high level, has good ball skills, and he's dangerous with the ball in his hands – very good punt returner.
Chidobe Awuzie, Desmond King, and Budda Baker are all interesting slot options. Each also projects well to Safety. Awuzie and Baker are playmakers in the box, and King's physicality and instincts project well in that area. Of these players, Awuzie is the best athlete by a wide margin. He can play outside for some teams, but for Miami, he's a Slot all the way. He put up outstanding tackle, TFL, and FF production at Colorado. While King is not as athletic as Awuzie or as fast as Baker, he brings much better ball skills and instincts than either. Like Awuzie, Baker is an excellent blitzing DB. His combination of speed and agility make him very appealing in that role.
Sydney Jones' injury is tragic, but the Combine was going to see him slide anyway. For a CB under 190lbs, without great length, you want to see him perform well in the agility drills, and Jones performed very poorly. He's technically sound, adept at forcing fumbles, and he plays with great instincts. But, he doesn't have 1[SUP]st[/SUP] RD physical talent.
Leaving the top 100, Teez Tabor has the best combination of technique, instincts, and ball skills in the draft, and he possesses good length. His 4.62 40 relegates him to the slot, ideally, and he's not as physical as you want – particularly at Slot. Still, he should do well blanketing Slot WR's, and he should make plays on the ball. Corn Elder is a better athlete than Tabor, but he's still not what you'd call a good athlete, and his coverage ability and ball skills are lesser than Tabor's. But, pound for pound, Elder is among the best-tackling, most-physical players in the class. He's a dog, and for teams that liked but missed out on Baker, Elder is a nice consolation prize.
Cam Sutton is very smooth, and he plays the ball well. He struggled with injuries at Tennessee, and he's among the softest CB's in the draft. He shows adequate speed and good agility, but his arms are very short and his hands very small. He's a player that could go either way. If he gets healthy and plays tougher, he has some tools you like. If he doesn't his tools aren't so good that you can forgive those issues.
While Howard Wilson is likely a Slot for Miami, he shows the quickness, physicality, and ball skills to line up outside. He's not fast or explosive, but his quickness and agility are high-end. Character concerns and only average overall athleticism drop him this far down the board. Brian Allen is raw and old, but he's an elite athlete with 34" arms. You don't like drafting developmental players who are this old, but Allen's toolbox is undeniable – speed, length, agility, explosive power, he has it all. Damonte Kazee is an outstanding player, who shows the physicality and ball skills you covet in a Slot DB. But, he's old, small, and a poor athlete. Because of this, he'll likely have a hard time keeping up with NFL WR's, and he may be relegated to a zone-only CB.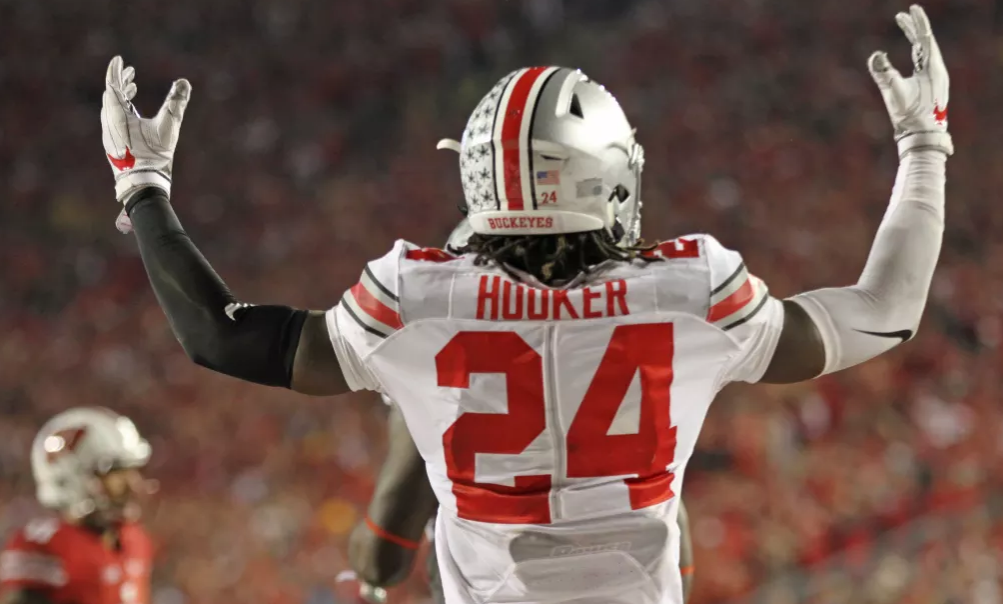 4. Safety
* Like TE, Safety is abnormally strong in 2017. Malik Hooker is THAT dude. His basketball background is evident in his ease of movement, and his range is as good as it gets. The INT against Clemson was impossible. It's hard to project someone with such a limited sample size, and not testing, that high, but his talent is too obvious.
Malik Hooker has overshadowed Marcus Williams as a FS prospect, and Obi Melifonwu overshadowed him at the Combine, but this dude is the real deal. He's an elite athlete with outstanding range, good ball skills, and very good instincts. He's also reliable and intelligent. PFF graded Williams as having the highest run-stopping percentage of all FBS safeties. Williams is still very young, with room for growth, and his best football is ahead of him. He plays the pass much better than Adams or Peppers, and it's a passing league.
Peppers is very talented, strong, and versatile. He's instinctive in the box, and he'd likely work best as player who splits time between SS and Slot. His return game gives him extra value. He's a projection, but you look at what he has shown, and you look at his character, versatility, and toolkit, and you trust that with some consistency, he'll make plays in the NFL.
Adams is an easier evaluation. He does most things well. He's big, strong, and aggressive, and just about every outlet gushes about his character. But, he doesn't react to the pass at the level of a high-end Safety, and his ability to cover in man is below what you want. He's a very good player, but his traits don't match his hype.
Obi Melifonwu is the freak with the heart of gold. He tested about as well as one could. He looks like Kam Chancellor, but he does not bring that physicality to the position. His instincts aren't good, and he's older than you want. Still, he's an outstanding matchup piece, and in a draft with numerous high-level TE's, Melifonwu has the best shot of covering them. Physicality is not an issue for Jones, who also jumped out of the gym and ran a blazing 40. He comes down hill like his hair's on fire, but he has a tendency to overrun plays or come in out of control. There's not a lot separating Melifonwu and Jones from Peppers and Adams.
After Hooker and Williams, Kai Nacua is the best FS in the class. He shows excellent ball skills and instincts, and he possesses elite athleticism. Teams will have to sort the Bowl Brawl and its implications on his character. Gerry does everything well. He's sound in coverage, a nasty hitter, and a playmaker against the run and pass. He's big, and his athleticism is adequate. Like Gerry, Xavier Woods excels in every area. He's a vicious hitter, instinctive, and he makes plays on the ball. Every player in this group presents football intelligence, instincts, and playmaking ability.
John Johnson is great in the box. He approaches the line with a wide base and low pads, and he executes his responsibilities consistently, and he makes it look pretty easy. In tight quarters, his burst and agility shine. He's sound in coverage, but he looks less comfortable the deeper he gets, and that's likely tied to his only weak athletic trait – long speed. Compares favorably to Kenny Vaccaro. Justin Evans closes in a flash, and his jumps and 10-yard split confirm that athleticism. His long speed isn't as good as you'd expect, and he's small. He delivers some kill shots, but he also misses too many tackles. Not especially instinctive, but he does flash playmaking ability.
Rayshawn Jenkins is a wildcard. He's a big, athletic Safety, who looks the part and put up decent production, but he looks a half-step late too often. I could see him going either way – high ceiling. Eddie Jackson plays the ball very well, has outstanding instincts, and he's dangerous with the ball in his hands. Saban loves him, and though he's softer than you want and coming off an injury, teams should value his skill set. Chuck Clark is a versatile, physical DB, with good size and athleticism. Clark can play any position in the secondary, but he does his best work in the box, and should compete for playing time at Slot or SS. Orion Stewart is on the smaller side, but he's a good athlete, aggressive coming down hill, and he breaks on the ball very well. Older than ideal. Montae Nicholson is a big, young Safety with good athleticism and decent production. He shows good instincts and anticipation, but he doesn't always pull the trigger. He should be able to contribute in some facet, and the upside is obvious.
Shop

5. RB
* You'll notice a couple of names missing. It's intentional. Leonard Fournette is a beast. His balance through contact and ability to maintain speed through contact are special. His instincts and vision are also what you want. Is his running style sustainable? I hope so. For me, his running style puts him in the top 20 and keeps him out of the top 10. Like Fournette, Christian McCaffrey combines outstanding vision with high-end tools. For McCaffrey, it's his combination of quickness and agility. His receiving ability is famous, and the hype is warranted.
D'Onta Foreman is a big, grinding RB with breakaway speed. He runs with good pad level, and he runs through arm tackles. The leading rusher in college football in 2016, Foreman should be viewed as a feature back. Alvin Kamara doesn't have the production you'd like to see, playing behind Hurd for most of his time at Tennessee, but he's cat quick and shows great balance through contact. His vision is just OK, and I think he should be viewed as more of a part-time back.
No one in the draft runs with more grit and toughness than Kareem Hunt. He breaks tackles with quickness and strength, and he catches the ball well out of the backfield. He was extremely productive at Toledo. After setting the single-game rushing record as a freshman, Perine has seen his production decline each season, Perine seemed like a future 1[SUP]st[/SUP] RD pick. His production declined each season. He's not a good athlete, but he's adequate, and he has value as a RB who will grind out tough yards, and shows some creativity. Like Perine, Conner is not what you want athletically, and like Perine, Conner will grind out tough yards. Conner excels at maximizing yardage, and he's very tough to tackle. He's also an excellent receiver out of the backfield. He processes the game mentally at much quicker rate than most players.
Aaron Jones is a smaller back, who runs tougher than you'd think, and in addition to catching the ball well in the flat, he's shown the ability to catch deep passes. He tracks the ball very well. He's the guy to target if you missed out on McCaffrey and Kamara. Brian Hill is an underrated athlete and a strong RB, who put up good numbers at Wyoming. Of the post-2[SUP]nd[/SUP] RD RB's, he has the highest ceiling, and if you missed out on Fournette and Foreman, Hill is the guy you want. Jeremy McNichols was a TD machine at Boise St. He's an elusive runner with good vision and the ability to maintain balance through contact and break arm tackles. Doesn't switch ball to outside arm with consistency. He shares many similarities with Kenneth Dixon. Marlon Mack projects best in a zone scheme. He's not particularly elusive, but he shows great burst when he sticks his foot in the ground. He's shown some ability as a receiver. Each of the RB's in this group is a good athlete. This group is less refined overall than Hunt, Perine, and Conner, but this is the group you want to target if you're looking for athletic upside. Elijah McGuire is not as athletic, but he's a well-rounded player with adequate speed and size. He runs very hard and breaks more tackles than you'd expect from someone his size, and he runs with creativity.


6. Off LB
* It's a little strange to post Reddick as the top LB, because we don't know how he'll look in run fits. He should handle OL well, but his instincts at the position are an unknown at this point. Still, Reddick provides high-end speed and burst. He projects as one of the best two (Davis) man-cover LB's in the class. He should be hell on blitzes, and you can even rush him off the edge. He has big hands and decent length. Zach Cunningham is a solid athlete, with exceptional length, but his most exception qualities are his instincts and his ability to defeat OL. His tackling could use work, but much of that is a combination of needing to improve upper-body strength (very doable), and the tackles he missed were mostly outside the box, where he was trying to catch a player from behind. As a run-stopping LB, no one in this draft is in his neighborhood, and he covers well.
If you missed on Reddick, and the pass-rushing aspect of his game wasn't a big deal, Jarrad Davis does just about everything else that Reddick can. Great athlete, who looks good in space, and is the most proven man-cover LB in the draft, he's very physical and hits like a truck, but his instincts are below average, and his late reaction time led to UF giving up some big runs. Raekwon McMillan is not as sudden as the LB's ahead and around him, but, overall, he's the most sound LB of the group, with no holes in his game – outside of athletic limitations. He's a solid athlete, shows good awareness in zone coverage, and his read/react instincts are right there with Blair Brown as second only to Cunningham. Still very young, McMillan has more upside than advertised, and he should start early. Reuben Foster hits as hard as anyone, looks good in space, and shows the burst and closing speed you want. His read/react can be a tick late. He's much better than Davis in this regard but a rung below McMillan. At 229lbs, character concerns, and no testing, Foster carries his share of risk and projects to WLB.
If you missed out on Cunningham and McMillan, Blair Brown will treat your Run D right. Strong, compact frame (short!), Brown diagnoses the run very quickly, and he goes and gets it with a wide base and bad intent. Could improve in coverage, but his athleticism (better than any of the LB's listed, outside of Reddick) should help in that regard. Like Reddick, Samson Ebukam is a pure projection at LB, but, like Reddick, he's an elite athlete. Also similar to Reddick, Ebukam's athletic strengths are burst, explosive power, and speed. Very intelligent, with high character, Ebukam is a good bet to pick up enough of the nuance of the position to thrive. It may take time with Ebukam, but his speed should be welcomed on ST's while he figures things out. Anthony Walker is a playmaking LB, who may have the best overall instincts in the class – factoring in the pass. He hasn't looked like the same athlete since adding weight, but he's athletic enough, and he should start early. For teams that need immediate help at LB, Walker is a great option in the mid rounds, and his instincts could see him outplay his draft slot.
Ben Gedeon only has one year of production, but he's a big, physical LB with good athleticism. Gedeon has good instincts, and he can play MLB or SLB in a 4-3 Over. If he had more than one year of production, he'd be ranked higher. Elijah Lee is a WLB, who received obligatory SS whispers, but he's very good in coverage (plus ball skills), good on the blitz, and he racks up a lot of tackles. Athleticism is just average, but he shows good burst. Lee has starter potential at WLB. Duke Riley struggled with injuries throughout his career at LSU, and only posted one year of production, but he's a good athlete with a great motor. Undersized, so he'll be stuck at WLB, but he plays tough and closes in a hurry. Riley carries plenty of risk, but with his speed and burst, he has fringe Pro Bowl upside. Jordan Evans is a run-and-chase LB with high-end athletic tools, and great instincts and anticipation in coverage. Unfortunately, he doesn't show the same anticipation in the run game, and his physicality is lacking. His ability to improve against the run will determine his playing time. Teams should like him as a Nickel LB, if nothing else. Dylan Cole is as athletic as any LB in the draft, and his instincts are pretty good. He struggles when taking on OL, and if he's late at all in diagnosing the play, his size becomes a big problem. He should move over to WLB, where that's less of an issue. Alex Anzalone is young, with good size, speed, and agility. His burst is just OK, and injuries prevented him from ever producing a good year at UF. He's a wildcard, but the talent is apparent. Harvey Langi is older than ideal, but he's a big, versatile LB with decent athleticism. Langi is a utility LB, who can do some of this and some of that. Looks like a career rotational player, but he has enough ability to develop into a starter.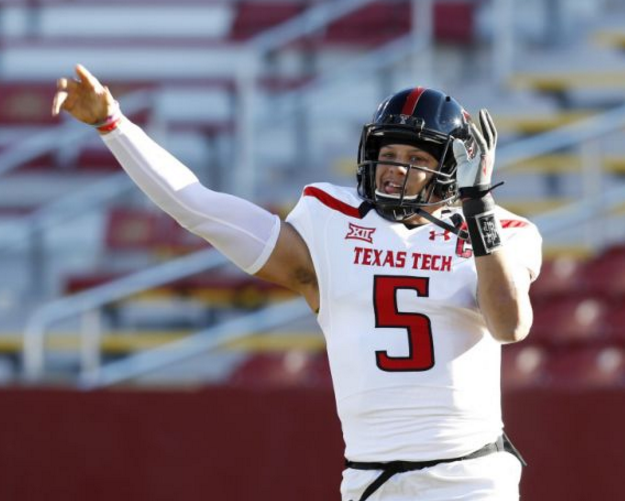 7. QB
* With 6 QB's in the top 100, 2017 may not be a great QB class, but there's plenty of talent. Deshaun Watson is has off-the-charts character and leadership. He varies his trajectory and is aggressive attacking deep. Arm strength is just adequate, and he threw more INT's than you'd like, but he's a legit top QB and a better prospect than three of the last four top-5 QB picks (Mariota, Goff, Wentz).
Patrick Mahomes is all upside. His mechanics and footwork are all over the place, but he has great talent in his feet, and he can throw the ball 80 yards. He's similar to Cutler and Stafford, but his mechanics are worse. He should go to a team, where he can sit behind a veteran for a year or two. Of the top 100 QB's, he needs the most work, but he has the highest ceiling. He's very good at buying time with his feet. Kizer is a prototypical pocket passer, but he can run a little. He has the bulk to withstand NFL punishment, and he has the arm to make every throw. Like Mahomes, Kizer needs significant development. He needs to improve his mental processing and to shorten his windup.
Trubisky is a very good athlete, with solid bulk, and good arm strength. He was very efficient in his one season as a starter for UNC. One year of production is a red flag, and his delivery is ugly. It reminds me a little of Kyle Boller's throwing motion. Like Mahomes and Kizer, Trubisky will need some time, but his ceiling is lower. Jerod Evans should be viewed as closer to Trubisky than he is. He has better bulk, a smoother delivery, and he has a similar resume, as a QB with one year of very good production in the ACC. Brad Kaaya looks like a natural from a clean pocket, but when things break down, he struggles. Limit athlete, with a limited arm, who is thinner than ideal, and didn't even bother testing. He's still young, though, and he knows how to lead an offense and spread the ball around. He has starter potential, but he'll need time to fill out, and his limited tools give him the lowest ceiling of the draftable QB's.
Joshua Dobbs is a brilliant young man, with good arm strength, and high-end athleticism. Of the QB's listed here, he's the best athlete. While he's very bright, he processes the game slowly. It looks like he's thinking, rather than playing on instinct – unless the play breaks down. He'd be a great backup for a team that is already gearing their offense toward an athletic QB – Buffalo, Seattle, and Tennessee come to mind. Nathan Peterman has received projections anywhere from the late 1[SUP]st[/SUP] through the late middle rounds, and I think the latter is correct. He throws a nice ball, plays with good poise, but he only has 662 career pass attempts, and he was often throwing against a loaded box in Pittsburgh (thanks to Conner and the OL). His accuracy is hit and miss, but he did play well in 2016. He looks like a career backup/fringe starter.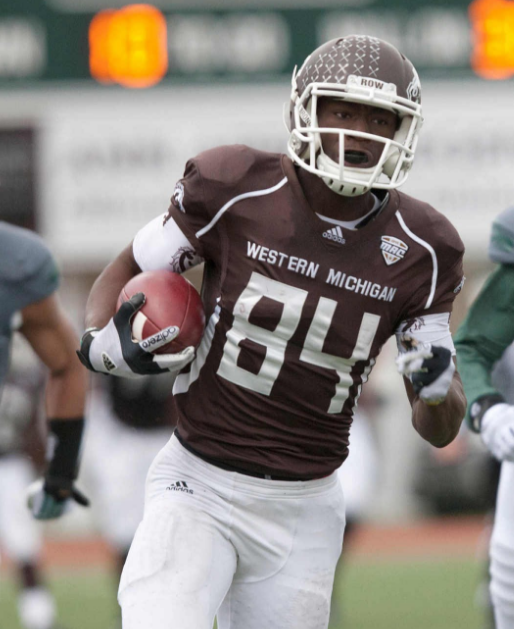 8. WR
* As always, the WR class is very deep. Miami is pretty set at this position, but I'll highlight a few players who I would look for as values for Miami, and you can see the rankings. Josh Reynolds can beat you all over the field. He creates separation at the stem, wins contested catches, and he's very quick transitioning from catch to run. Thinner than ideal, but with good height, speed, burst, and agility, Reynolds is a headache for DB's. Taywan Taylor is maybe the most adept receiver in the class as creating deep separation. He plays with outstanding burst and agility, and he knows how to use leverage to put CB's off balance. Small-school player, but he put up big numbers against SEC and Big 10 opponents.
Isaiah Ford is not a burner, but he wins contested catches, and he presents a great target. He's a quirky route runner. I've seen him compared to Stevie Johnson, and that comp works pretty well for me. He'll make tough catches and move the chains. He's also a good red-zone target. Carlos Henderson is the best RAC WR in the draft, and his ability to high-point the ball is underrated. Cooper Kupp profiles like Jarvis Landry. Limited athlete, but he knows how to get open.
Amara Darboh, Jehu Chesson, Curtis Samuel, Mack Hollins, and Bug Howard are all outstanding physical talents, but low production means added risk. This is your boom/bust group. Each of these players has good reasons for limited production – usage, QB play, etc. But, there are players who put up production, rather than reasons, and Josh Reynolds, for example, had plenty of reasons to not produce at A&M, but he still did. Mack Hollins, though, moves REALLY well for a guy his size. Gets in and out of his breaks, and he can torch you deep. Though, I have other players in this group ranked ahead of him, I have them in consecutive order on my overall board. This is a very good group, all with high-end talent.
Robert Davis is the best athlete of any WR in the class, and Josh Malone and Malachi Dupre are big targets with burst and deep speed.
Pass

9. OG
* The OL group is really bad overall, but the OG's are just below average overall. Lamp is a great prospect and worth a top-20 pick. He does the little things right, and he plays with great strength and athleticism. He's a day-one starter with All Pro upside. Converting from OT to OG, but I don't see it being a problem for him.
Dorian Johnson uses his elite length to stonewall DT's. He's an excellent pass blocker. He also whoops his man in the run game and pulls very well. He's not great at the 2[SUP]nd[/SUP] level, where his poor agility shows, but he does everything else well. Dan Feeney is the best RG prospect in the draft. He's consistent sealing his man, and he's accurate at the 2[SUP]nd[/SUP] level. He's solid in pass protection, but he's not as good as Dorian Johnson. Taylor Moton is a bigger player and better athlete than Johnson or Feeney, but he has more work to do that either. Moton should be good enough to start right away, but it may take a while for him to play well. Has the length and athleticism to play OT in a pinch.
Ben Braden is the last OG with a very good chance to start immediately. He's huge and fast, with very good length, and he finishes blocks. Another OT-to-OG convert (Moton is, too), Braden's limited time at OG looked good.
Yet another convert, Aviante Collins played well at RT for TCU. He's undersized but shows elite speed and strength. If he can add 10lbs, he should be a very good player. Nico Siragusa is a very good athlete, but, too often, he plays off balance. Big, strong OG, but he has a lot to iron out. Isaac Asiata plays with good balance, and he's strong as an ox. But, he's old, and his lack of athleticism could hold him back. If you're looking for a ready-made OG, Danny Isidora is not your guy. He's fast, and he flashes in the run game, but he makes freshman mistakes way too often. He's a little interesting as a developmental OG.

10. C
* With only four prospects in the top 173 and no prospects in the top 50, this Center group is uninspiring. But, the top-3 Centers are interesting prospects. Pat Elflein looked like a fringe 1[SUP]st[/SUP]-RD pick before the Combine. Some people still see him in that light. He plays with great awareness and tenacity, finishes blocks, and, for all his athletic shortcomings, he made a lot of plays in space at Ohio St. Ethan Pocic is unusually tall for the position, but he's a natural athlete and executes at a consistent level. As expected, pad level is something he'll have to work on. Kyle Fuller needs more work than either, but he flashes dominance in the run game, and has tools you can work with.
Tyler Orlosky is a gritty Center, but he's under 300lbs. Like Elflein, he's a poor athlete, but he doesn't have tape that makes you feel better about his limitations. He could develop into a starting Center, but he looks like a guy you're always hoping to replace. You hope he develops into a stop-gap player.

11. OT
* This infamously terrible OT class looks even worse in the shadow of the outstanding 2016 class (credit to Miami for striking while the iron was hot). There are players to get, but value seems unlikely. The one of the exceptions may sit at the top with Cam Robinson. Often rated outside the top-20, if his character checks out, he has elite size and length, anchors as well as any OT in recent memory. He's not a great athlete, but he compares well to Ronnie Stanley. He's a top-10 talent in most drafts.
Dion Dawkins has the size, length, an agility you covet in an OT prospect, but his waist-bending tendencies are a concern. I like him best at RT, but with his tools, LT is a real possibility. For such a good athlete, he plays high, but I see that as correctable. In general, his detractors do not see the issue as likely correctable.
Ryan Ramczyk puts in good effort, but he's an uninspiring prospect. Shorter arms than you want, and he doesn't look like a great athlete – didn't test. I'd move him to OG. I like him there. His effort as a run blocker is what you want – finishes blocks. Garrett Bolles is a terrific athlete, and a nasty run blocker, but he's very old, and he weighs less than 300lbs. You can't anchor in the NFL at 296lbs. His age casts doubt on his ability to add bulk. He's very problematic but worth a gamble at some point. Storm Norton is nowhere near as good as Garrett Bolles, today, but as a prospect, he's right on his heels. With great size, solid athleticism, and elite length, Norton reminds me of a less physical Jack Conklin. He moves funny, but he executes consistently, and, apart from Cam Robinson, he looks like the only value to be had at OT in 2017.
Will Holden is a sound OT, who shows good balance and core strength, but his short arms are a liability at OT, and he's just an adequate athlete. It's almost like his body can't decide whether he should be an OT or OG. Still, at a certain point in the draft, you roll with a good player and see if you can find a spot for him. Antonia Garcia shows good speed and burst, and he looks good on tape, but he's just an average athlete (hyped as more), and he's light with short arms. He's also old, and I like him better at OG. Julien Davenport is all talent. He has a big, beautiful frame with good agility. He needs refinement, but he doesn't look lost. His speed is poor, but his agility is very good for his size. Roderick Johnson is also a pure projection, but he's more of a projection than Davenport (super-pure projection). He's young but underweight, and his tape is horrendous, but he he's 21, has 36" arms, and ran a 4.90 40.

12. DT
* Like OL, DT looks even worse after a strong 2016 group. McDowell is a top-20, maybe top-10, talent, but he's off my board. From everything I've read, he's not the kind of player I want. Maybe he grows up. Someone else can have fun with that. I'll briefly touch on the DT's I like. This position has the narrowest window of players, with only three in the top 100.
Montravius Adams is a beast. He's strong, fast, takes on double teams, eats up man blocking, and he's relentless. His production is a little worrisome, but he was double teamed very often, and he led a stout run D. If Miami wants two penetrating DT's, Adams is close to a best-case scenario, particularly for this class. Wormley is miscast in a 4-3, but he'd still find a way to contribute. Outstanding speed and agility, but he's best as a 5-tech. Jonathan Allen doesn't fit Miami's D, but he's a very good player, and if he falls far enough, you look at making it work and utilizing his talents. He should be a 3-tech or a penetrating 5-tech. He'd be a great fit in a Wade Phillips' D. His hands are famously strong, and he's an instinctive player, but he's likely worth more to a team other than Miami.
Position Rankings
22. Deshaun Watson QB1
54. Patrick Mahomes QB2
54. Deshone Kizer QB3
97. Mitch Trubisky QB4
97. Jerod Evans QB5
97. Brad Kaaya QB6
166-184. Joshua Dobbs QB7
106-184. Nathan Peterman QB8
22. Leonard Fournette RB1
22. Christian McCaffrey RB2
54. D'Onta Foreman RB3
54. Alvin Kamara RB4
166-184. Kareem Hunt RB5
166-184. Samaje Perine RB6
166-184. James Conner RB7
166-184. Aaron Jones RB8
166-184. Brian Hill RB9
166-184. Jeremy McNichols RB10
166-184. Marlon Mack RB11
166-184. Elijah McGuire RB12
22. Corey Davis WR1
54. Mike Williams WR2
54. Josh Reynolds WR3
54. Taywan Taylor WR4
54. John Ross WR5
54. JuJu Smith-Schuster WR6
54. Zay Jones WR7
54. Chris Godwin WR8
97. Isaiah Ford WR9
97. Ardarius Stewart WR10
97. Carlos Henderson WR11
97. Cooper Kupp WR12
97. Amara Darboh WR13
97. Jehu Chesson WR14
97. Curtis Samuel WR15
97. Mack Hollins WR16
97. Bug Howard WR17
22. David Njoku TE1
22. OJ Howard TE2
22. Evan Engram TE3
54. Bucky Hodges TE4
97. Jonnu Smith TE5
97. George Kittle TE6
97. Jake Butt TE7
166-184. Jordan Leggett TE8
166-184. Adam Shaheen TE9
166-184. Pharaoh Brown TE10
166-184. Jeremy Sprinkle TE11
166-184. Gerald Everett TE12
166-184. Michael Roberts TE13
97. Pat Elflein C1
97. Ethan Pocic C2
97. Kyle Fuller C3
166-184. Tyler Orlosky C4
22. Cam Robinson OT1
54. Dion Dawkins OT2
97. Ryan Ramczyk OT3
97. Garrett Bolles OT4
97. Storm Norton OT5
166-184. Will Holden OT6
166-184. Antonio Garcia OT7
166-184. Julien Davenport OT8
166-184. Roderick Johnson OT9
223. David Sharpe OT10
223. Connor McDermott OT11
22. Forrest Lamp OG1
54. Doran Johnson OG2
54. Dan Feeney OG3
54. Taylor Moton OG4
97. Ben Braden OG5
166-184. Aviante Collins OG6
166-184. Jermaine Eluemunor OG7
166-184. Nico Siragusa OG8
166-184. Isaac Asiata OG9
166-184. Danny Isidora OG10
166-184. Adam Bisnowaty OG11
22. Myles Garrett DE1
22. Jordan Willis DE2
22. Solomon Thomas DE3
22. Derek Barnett DE4
54. Deashon Hall DE5
54. Trey Hendricks DE6
97. Deatrich Wise DE7
97. Tarrell Basham DE8
97. Tanoh Kpassagnon DE9
97. Carl Lawson DE110
97. Charles Harris DE11
97. Taco Charlton DE12
97. DeMarcus Walker DE13
97. Hunter Dimick DE14
166-184. Keionta Davis DE15
166-184. Avery Moss DE16
166-184. Jeremiah Ledbetter DE17
22. TJ Watt Edge/OLB1
22. Tyus Bowser Edge/OLB2
54. Derek Rivers Edge/OLB3
97. Vince Biegel Edge/OLB4
97. Takkarist McKinley Edge/OLB5
97. Tim Williams Edge/OLB6
166-184. Ryan Anderson Edge/OLB7
54. Montravius Adams DT1
54. Chris Wormley DT2
54. Jonathan Allen DT3
22. Haason Reddick Off LB1
22. Zach Cunningham Off LB2
54. Jarrad Davis Off LB3
54. Raekwon McMillan Off LB4
54. Reuben Foster Off LB5
97. Blair Brown Off LB6
97. Samson Ebukam Off LB7
97. Anthony Walker Off LB8
166-184. Ben Gedeon Off LB9
166-184. Elijah Lee Off LB10
166-184. Duke Riley Off LB11
166-184. Jordan Evans Off LB12
166-184. Dylan Cole Off LB13
166-184. Alex Anzalone Off LB14
166-184. Harvey Langi OFF LB15
22. Marshon Lattimore CB1
22. Gareon Conley CB2
54. Ahkello Witherspoon CB3
54. Marlon Humphrey CB4
54. Shaquill Griffin CB5
54. Kevin King CB6
54. Quincy Wilson CB7
97. Tre'Davious White Cb8
97. Cordrea Tankersley CB9
97. Rasul Douglas CB10
97. Fabian Moreau CB11
97. Adoree' Jackson CB12
97. Chidobe Awuzie CB13
97. Sydney Jones CB15
166-184. Howard Wilson CB16
166-184. Brian Allen CB17
97. Desmond King Slot1
97. Budda Baker Slot2
166-184. Teez Tabor Slot3
166-184. Corn Elder Slot4
166-184. Cam Sutton Slot5
166-184. Jalen Myrick Slot6
166-184. Damontae Kazee Slot7
22. Malik Hooker S1
22. Marcus Williams S2
22. Jabril Peppers S3
22. Jamal Adams S4
54. Obi Melifonwu S5
54. Josh Jones S6
97. Kai Nacua S7
97. Nate Gerry S8
97. Xavier Woods S9
97. John Johnson S10
97. Justin Evans S11
166-184. Rayshawn Jenkins S12
166-184. Eddie Jackson S13
166-184. Chuck Clark S14
166-184. Orion Stewart S15
166-184. Montae Nicholson S16